Meet David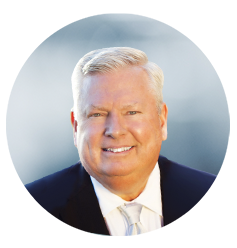 David McKinnon is one of the most successful franchise-builders in the world. He is also one of the nation's most creative and accomplished entrepreneurs.
Over the past forty years, McKinnon has demonstrated an extraordinary ability to recognize unmet needs in the marketplace, innovate solutions, and establish recognizable brands. He is a fire-tested executive whose business acumen, combined with a set of unshakeable beliefs, helped him guide his companies through three major recessions including the dot-com meltdown and the Great Recession.
McKinnon's business interests have spanned technology, home services, business-to-business telephony and consumer products. As co-founder of Service Brands International (SBI), he built companies such as Molly Maid, Mr. Handyman and ProTect Painters to encompass more than 1,000 franchises in half a dozen countries.
In 2011, McKinnon and partner Alan Gotthardt founded TriniD Capital, an investment company focused on the public markets. In 2015, the partners founded TriniD Ventures, a private equity company.
Also in 2015, McKinnon provided a sizeable endowment to the International Franchise Association's (IFA) Educational Foundation for the funding of its "NextGen Franchising" – a worldwide program that supports young entrepreneurs. Each year, NextGen holds a global contest for aspiring franchisors, with the winner receiving the David McKinnon Global Entrepreneurship Award.
Throughout all his efforts, McKinnon is actively engaged in helping people around the world achieve their dreams and ambitions.